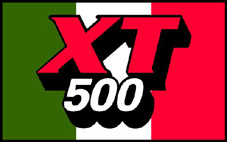 1. International XT 500 Meeting
Salbertrand, Italy (Piemonte, Susa-Tal)
Camping "Gran Bosco"
17.07.2002 - 24.07.2002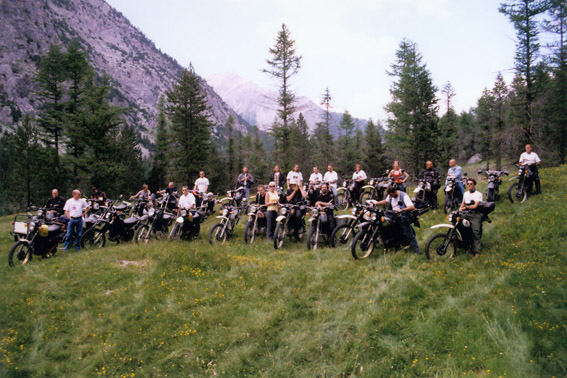 ---
Statistics
69 XT 500 !!
1 TT 500
1 XT 250
1 TT 350
1 WR 400
3 SR 500
1 XT 600
1 XT 750
1 Honda 185 Softchopper
83 people and 8 kids
---
My personal diary:
Sunday, 14.07.2002
On the road
After 19 hours of driving on tollways through Germany, Austria, Switzerland and Italy
we do arrive on the Camping "Grand Bosco" between Oulx and Salbertrand.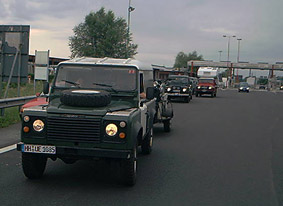 It is raining.
Monday, 15.07.2002
Assietta Track in the rain
We head of for the Assietta-Route, but rain ist too heavy.
Tanja is doing good on the dirt track on her Honda 185 Softchopper.
Just after Colle delle Finestre we turn left to Fenestrelle and return to the camping
via Sestriere and Oulx.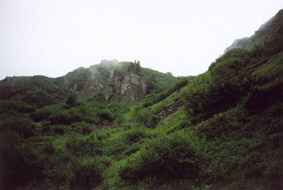 It's raining.
Tuesday, 16.07.2002
Assietta Track
Weather seems to be better than on Monday, so we try the Assietta again.
This time Tanja takes the XT 500 of Sandra, who stays with Robin on the camping.
Just little rain and some sun let us spend a beautiful day on the Assietta.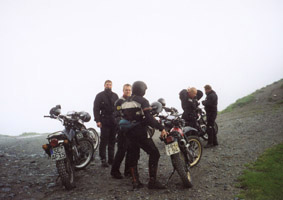 From time to time we had the view into some valleys.
At Colle dell'Assietta we've been at a hight of 2472 m above sealevel.
Wednesday, 17.07.2002
Torino
No rain any more!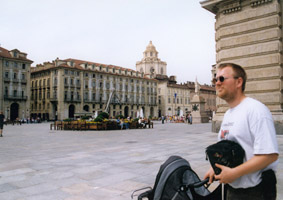 We're all going to visit Torino. It is just 70 km away from Salbertrand.
It's hot and expensive.
Thursday, 18.07.2002
Mt. Jafferau
Most of us take it up to Mt. Jafferau this day.
First the dirt track goes left to Fort Pramand on Mt. Pramand.
The track is harder than the Assietta. The funnie thing about this track
is the 900m tunnel in the middle of it. It's just dark in there and with the 6 Volt
headlights of a XT you're just lost.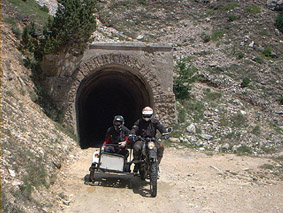 The peak of Mt. Jafferau is covered by Fort Jafferau at a hight of 2785 m.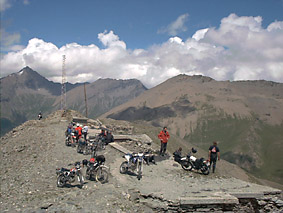 Friday, 19.07.2002
Colle Sommeiller
There are allready a lot of people on the campground. We tell them about our plan
to drive up the dirt track to Colle Sommeiller. Even the three SRs take it, and
so we make it up to the snow in small groups.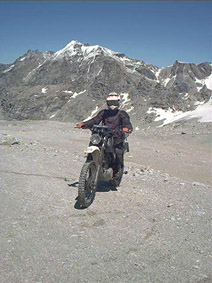 On our way down from Colle Sommeiller Sandra reached me by phone.
One XT-driver had a major breakdown in France. He wanted to be picked up.
So Bjoern2 and me took the LandRover to go and get him.
On our way we met several XT drivers. The rescue took us 6 hours.
Saturday, 20.07.2002
Fort Exilles, Vallee Etroite
In the late morning some of us go to visit the Fort in Exilles.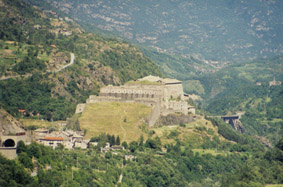 At 14.00 h most of us meet at the camping to go on a tour to Vallée Etroite
lead by some of our italien friends from the italien XT 500 Owners Club.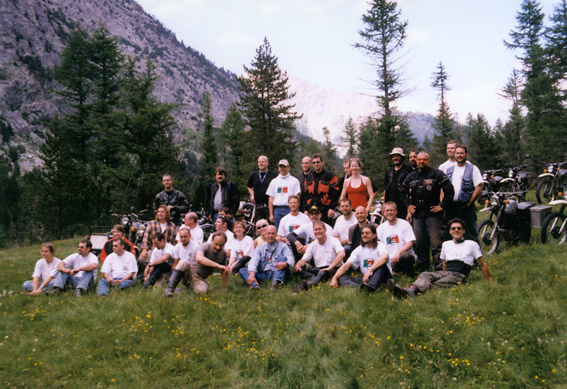 Sunday, 21.07.2002
Lago Nero, Col de Bousson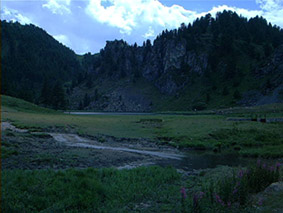 Johny (B), Rammel and me go for a little tour to Lago Nero
and Col de Bousson. On a Sunday there are a lot of Italiens on the dirt tracks
looking for a nice spot for barbeque.
Monday, 22.07.2002
Mt. Chaberton
This mountain is to be seen from every dirt track, from every peak, from every Colle
and even from the camping. It seems as if it looks to you!
In the 80th this was the biggest challenge to go to with a XT 500.
Unfortunately it is impossible now to go to the top by motorbike and it is forbidden too.
But, for sure you can hike to the top, where you can find the Fort Mt. Chaberton.
We did it!!!
While we did it, our friends with the Volkswagen Bus and the red Landrover with the
white camping-cabin started their trip back home.
Unfortunately they had an accident just north of Frankfurt on the Autobahn.
Nobody was injured, but the Landrover is gone.
Tuesday, 23.07.2002
Mt. Jafferau with LandRover
After visiting Mt. Jafferau by XT, I wanted do do it again in the LandRover
together with my son Robin. We had a beautiful view and a good time up there.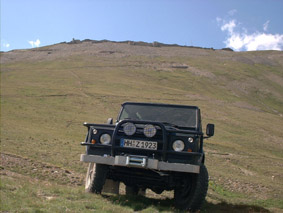 Wednesday, 24.07.2002
Fort Exilles and LandRover-winching
Today Sandra takes her XT to drive the Assietta.
Robin and me visit the Fort Exilles again.
Afterwards we found a spot to check the winch on the Rover.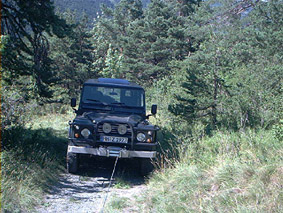 Thursday, 25.07.2002
Passo della Mulattièra, Colle Sommeiller
On our last day in Italy we did something crazy.
Just Clemens and me drove up the Passo della Mulattièra.
The track is rough in the beginning.
After you passed Punta Colomion it is washed away for a couple of times.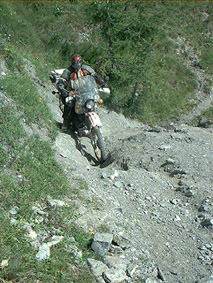 There is one part, where you are really afraid of slipping into the valley,
another part is that steep, that you can hardly make it in first gear.
Anyway. The view from Passo della Mulattièra is great.
For sure there is another Fort and after a while we found the entrance to some tunnels
of the war, connecting different bunkers.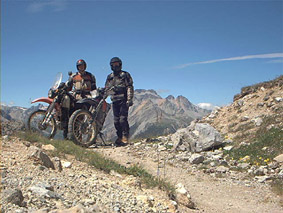 We had to decide to go back or to head on to the french border.
On the map the track turns into a trail behind the border.
Well, we found the trail and decided to take it, because the way back was so hard.
Finally we reached Plampinet in France where we took a cold drink in a Bar.
Back in Bardoneccia (17:00 h) we decided to do the Colle Sommeiller.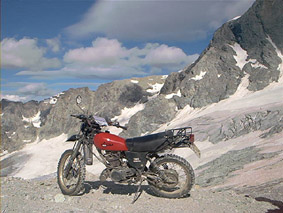 What a beautiful final tour for this holiday!!!
Friday, 26.07.2002
On the road again
We hit the road at 10:00 h ... we drove all day ...
Saturday, 27.07.2002
Hamburg, Germany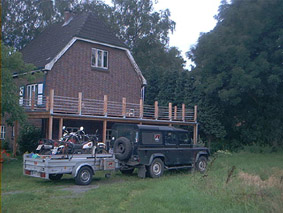 ... and reached home on 5:00 h in the morning.
---
Links to other pictures of Italy
Germany
Austria
Pictures of Raoul
Pictures of Wolfgang
---
EMail to XTom